Lisa Gonick & The Damfino Players.
Hosted by Karen and Michael
8pm Main Room: Beg-Int Swing/Lindy Lessons with Karen and Michael

9-12pm Live Show and Dance Party with Lisa Gonick & The Damfino Players

DJ Michael Arntz

Doors Open at 7:30 pm.   $15

1317 San Pablo Blvd., Berkeley, CA (corner of Gilman).  Parking at REI after 9pm.

Admission $15 includes lessons and party.

Click Here to Buy Tickets
---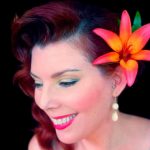 Lisa Gonick & The Damfino Players:
This may be the Damfino Players' Ashkenaz debut, but singer Lisa Gonick is a long-time Ashkenaz performer, formerly with Swing Thing (her singing partner in that group, Cheryl McBride, may join Damfino Players for a few songs tonight). Damfinos guitarist and banjo player Cliff Moser is also a Swing Thing alum; in fact he and Gonick have been partners in all sorts of projects over the last 15 years. The new project allows for a more intimate and diverse feel. Tonight the band plays a mix of Swing, blues and New Orleans-style hot jazz. Songs may include "Pennies from Heaven," "Honeysuckle Rose," Stompin' at the Savoy" and "Blue Skies." Gonick and Moser go for everything from early jazz and blues to mid-bop. Think Ukulele Ike with a sweet late '30's jazz guitar feel. Gonick loves to play ukulele and sing her little heart out from '20's novelty tunes to '50s heart-wrenching ballads. Moser's creative guitar playing mixes technical wizardry with silly quotes. Gonick says, "We love dancers so even when it's just the two of us, we try to make it so you can't stop movin' your feet." However, tonight the Damfinos are at least a sextet (with a guest or two thrown in at no extra charge): banjo player and guitarist Jeff Green, reeds player Jamison Smeltz, bassist Kurt Ribak and pianist Virginia Tichenor.
Website: www.lisagonick.com
---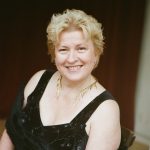 Dance Instructor Karen Lile: Karen began teaching in 2006. She considers teaching as an opportunity to share her love of dance and to unlock each student's potential for enjoyment and mastery. She helps students discover the dancer inside of themselves and feel comfortable on the dance floor. Karen has studied dance with enthusiasm for many years. These studies have included university level dance classes, teacher college certification and travel around the world to study with various teachers. Website: http://www.karenandmichael.info
---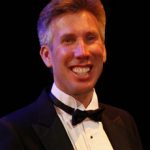 Dance Instructor Michael Arntz:
Michael began teaching with Karen in 2007. Michael Arntz combines his years of experience as a musician with his training as a professional dance teacher to help students learn how to dance to the music with skill and ease. His patience and expertise help students feel comfortable about learning to dance for the first time. He is also a DJ for private events, and plays the music between the band's sets when there are live shows.