LaVay Smith and her Red Hot Skillet Lickers
Hosted by Karen and Michael
8pm Main Room: Beg-Int Swing/Lindy Lessons with Karen and Michael



8pm Back Studio: Lesson TBA

9-12pm Live Show and Dance Party with LaVay Smith and her Red Hot Skillet Lickers



DJ Michael Arntz

Doors Open at 7:30 pm.   $15

1317 San Pablo Blvd., Berkeley, CA (corner of Gilman).  Parking at REI after 9pm.

Admission $15 includes lessons and party.

Click Here to Buy Tickets
---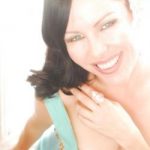 LaVay Smith and her Red Hot Skillet Lickers
One of the first and still the best of the "swing revival" bands, Lavay Smith & Her Red Hot Skillet Lickers remain popular after 25 years of keeping dancers ecstatic. Along with the East Coast Swing and Lindy Hop grooves by the band, Smith swings from sultry torch songs to the grit of the great blues singers. She and the band keep adding new elements to their timeless blues-jazz-swing repertoire, including new songs as well as rotating the hits and lesser-known gems from their four CDs.
Growing up in Southern California and the Philippines, Smith was influenced early by such singers as Billie Holiday, Dinah Washington, Bessie Smith, and Esther Phillips. Since 1989, before swing became a national craze, she and her band (led by co-founder and keyboardist Chris Siebert) have been making music as sharp and irresistible as her period costumes that recall the pinup girls of the Forties. Two decades later they are still the Bay Area's hottest swing attraction, steeped in not just the songs but also the feel that makes them the real deal. Big, bluesy-voiced Smith has deservedly raked in national attention from network television to NPR, and Johnny Otis proclaimed that "she and her band are a breath of fresh air!" Multiple award winners, Smith and her Skillet Lickers present not only the best-dressed but also one of the most exciting shows of East Coast Swing and Lindy Hop dance music, as well as sultry torch songs.
Along with Smith and Siebert, the Red Hot Skillet Lickers collectively have worked with most of the top names in music, from Duke Ellington and Frank Sinatra to Taj Mahal and Dr. John: alto saxophonist Jules Broussard, tenor saxophonist and clarinetist Rob Barics, trumpeter Mike Olmos, trombonist Danny Armstrong, bassist Ron Belcher, and drummer Howard Wiley.
Website: http://www.lavaysmith.com
---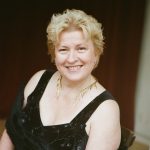 Dance Instructor Karen Lile: Karen began teaching in 2006. She considers teaching as an opportunity to share her love of dance and to unlock each student's potential for enjoyment and mastery. She helps students discover the dancer inside of themselves and feel comfortable on the dance floor. Karen has studied dance with enthusiasm for many years. These studies have included university level dance classes, teacher college certification and travel around the world to study with various teachers. Website: http://www.karenandmichael.info
---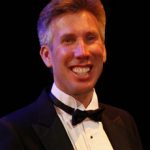 Dance Instructor Michael Arntz:
Michael began teaching with Karen in 2007. Michael Arntz combines his years of experience as a musician with his training as a professional dance teacher to help students learn how to dance to the music with skill and ease. His patience and expertise help students feel comfortable about learning to dance for the first time. He is also a DJ for private events, and plays the music between the band's sets when there are live shows.